Morrey Auto Body Shop
Morrey Auto Body is NOW OPEN!
Please contact our Auto Body manager with any questions:
Mike Leyland at: mleyland@morreyauto.com or call 604-294-2908
Our Mobile Auto Glass Division is ready to serve you.
Contact our Auto Glass Manager Alton at: glass@morreyauto.com or 604-868-3705
Come check out our new state of the art Auto Body and Glass facility.
Located at: 2590 Douglas Road, Burnaby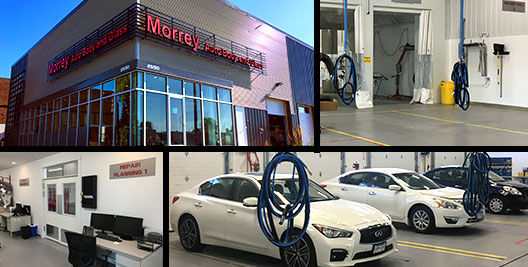 Morrey Nissan of Burnaby invites you to entrust your vehicle our Morrey Auto Body & Glass center; our ICBC-Accredited Repair and Valet Auto Body is equipped to service all vehicle makes, including our Nissan, Mazda, and Infiniti brands. The entire team in our Nissan collision center in Burnaby is proud to guarantee courteous and expert care to help turn a bad situation into a hassle-free experience. We are the only Nissan-certified body shop in the Vancouver area, and have been meeting the needs of car owners for over 25 years.
At Morrey Nissan or Burnaby, our goal is to be an industry leader in finding new ways to raise the standards of quality and service in the auto body repair industry. We strive to create outstanding customer satisfaction, from the initial warm welcome to the efficient quality repairs, as well as keeping our customers adequately informed throughout the repair process. We are committed to leading the collision repair industry in technical skills, equipment and quality of work.
---
Accredited Repair Facility

Our ICBC-Accredited Repair facility is proud to work on our Nissan, Infiniti, and Mazda brands, as well as all other makes and models. Our manager, Michael Leyland and his entire Body Shop team are here to turn what can be a traumatic event into a positive experience.

WHY CHOOSE MORREY AUTO BODY & GLASS?



Guaranteed Quality Repairs
All repairs are guaranteed for as long as you own the vehicle. We are committed to leading the collision repair industry in technical skills, equipment, and quality of work. All of our technicians are fully trained and ticketed, and because of a great work environment based on teamwork, most of our employees have been with us for more than a decade.


Alternate transportation
As an ICBC-Accredited VALET car shop, we can help you with your transportation needs while your vehicle is being repaired. We carry a fleet of replacement vehicles, which is constantly rotated with our dealerships to ensure our customers will always be driving a vehicle no more than one year old.


Vehicle Pick-Up & Drop-Off
At your request, we as a VALET car shop will collect your vehicle from your home or workplace (within 30km of the shop) and return it to you when the repairs have been completed. All of this at no extra charge.


Exceptional Service
Our goal is to make the repair process as seamless and hassle-free as possible for our customers. We provide exceptional service from start to finish throughout the repair process, namely in providing a warm welcome on arrival, providing alternate transportation, keeping our customers adequately informed, and returning your vehicle cleaned and in pre-accident condition or better with a lifetime guarantee.

Paint
Painting can be the most environmentally damaging part of the collision repair process; this is why Morrey Auto Body & Glass was among the first auto body shops in greater Vancouver to use waterborne paint. Waterborne paint is the most technologically advanced way to paint a car. This process uses water instead of solvents to apply paint to the vehicle. When combined with the most advanced environmental spray guns, our paint emissions are reduced by up to 90% over standard paint methods. We also use dual media filters and both floor and exhaust stack filters to further scrub all exhaust air from our spray booths.


Recycling
Keep as much out of the landfills as possible is our commitment. Products we recycle include plastics, metal, aluminum, waste paint, cardboard, and paper products. We are also striving to make our office as paperless as possible.
---
Repair Process

An accident can leave any driver feeling uncertain of whom to trust with the repairs of their vehicle. At Morrey Auto Body and Glass, we feel it's essential that the repair process be as smooth and hassle-free to our customers as possible. Let our friendly and professional staff turn a traumatic event into a positive experience as we guide you through each step of the repair process to make sure you are completely comfortable and informed. You can relax knowing our technicians will handle each repair project with the respect and time it deserves, so we can get you back in your vehicle as quickly and smoothly as possible. Below, you will find step-by-step details of the repair process.

Administrative
After the estimate has been written, the insurance-company and owner approvals are obtained.


Parts/Disassembly
In most cases, parts are ordered before the vehicle goes into production. The estimate is given to the technician that has been assigned to repair your vehicle. Damaged parts are removed, and a list is prepared for the estimator that details all hidden damage found at this time.


Revised Estimate
The estimator makes changes to the estimate based on additional damage that is found and forwards this information to the insurance company. The vehicle owner is called with an update. Many times, additional parts will need to be ordered after the estimate is revised.


Structural Repairs
If any damage is found to the inner structure, it is repaired on one of our wedge clam pulling system racks.


Cosmetic Repairs
After removing the vehicle from the wedge clam rack, sheet metal repair and replacement operations are performed.


Refinishing/Polishing
All panels that will need to be refinished to go through a very thorough preparation process. The outside finish is applied in our downdraft/heated spray booths. Then the exterior of the vehicle is polished as needed to match the original factory finish and texture.


Reassembly
The vehicle goes back to the body shop to have trim, such as door handles and moldings, reinstalled.


Mechanical Repairs
Any mechanical operations that are performed by a specialist, such as air bag replacement, are performed at this time.


Detailing
The vehicle is cleaned thoroughly inside and out.


Quality Control
Every area that was repaired is checked closely to ensure that all work has been properly completed. In addition, most repaired vehicles are road tested. If anything is found not operating correctly it is either repaired, or if it is something not related to the loss, the customer is notified.


Customer Called
The customer is called during the repair process to keep them informed as to the status of the repairs and when it will be complete.